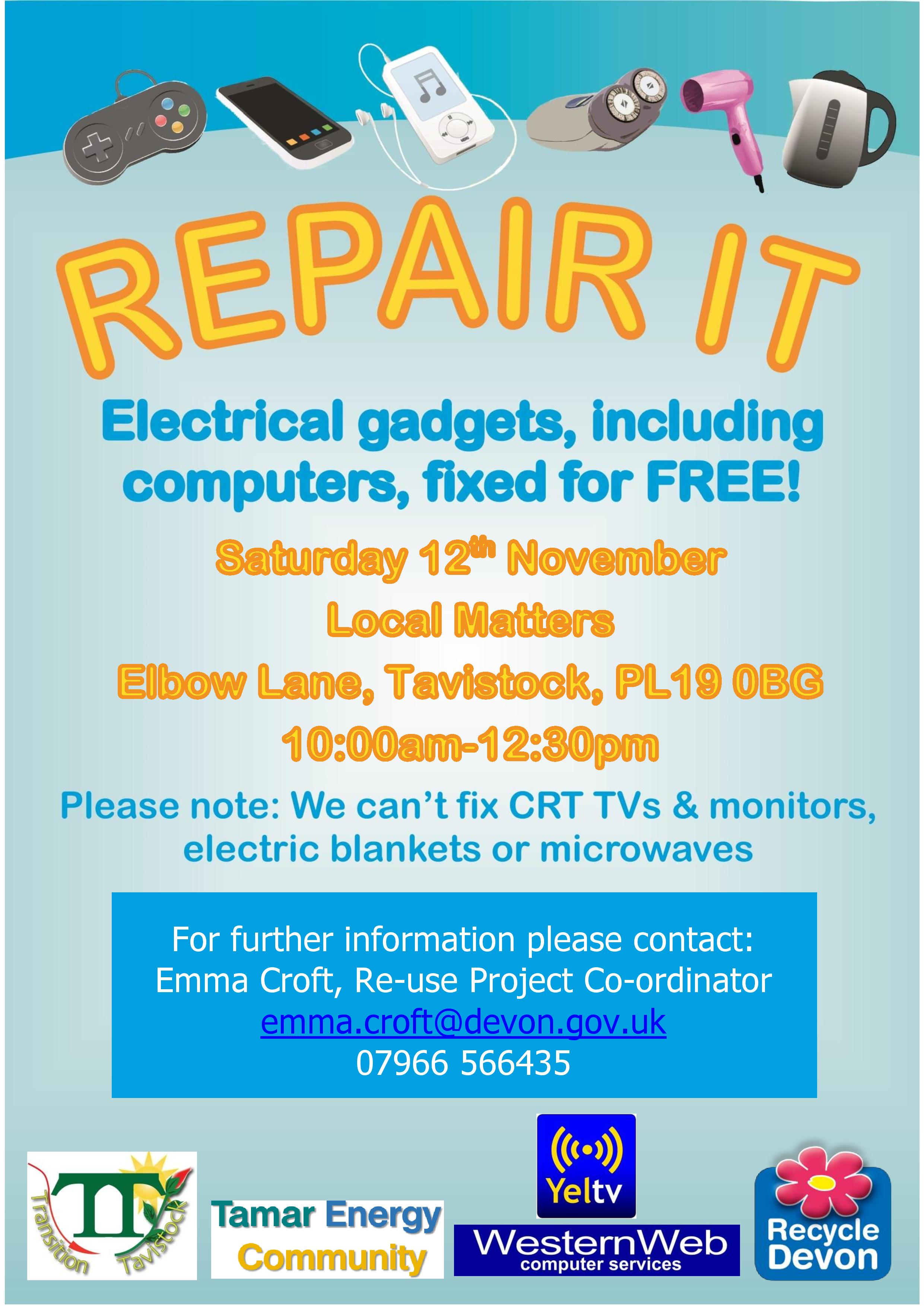 In a fix with your broken electrical items and gadgets? Time to get them fixed for free at a special event to be held to be held at Local Matters, Elbow Lane, PL19 OBG on Saturday November 12th.
Download a poster here
Recycle Devon is putting on a series of REPAIR IT events across the county for householders to bring along their broken electrical appliances, including computers, to be fixed by local menders at no cost and the West Devon event takes place in Tavistock.
Organised in conjunction with Transition Tavistock and Tamar Community Energy, the event will run from 10:00 to 12:30 and repairs will be carried out on a first come, first served basis so please be prepared to wait. Please note that they won't be able to fix CRT TVs or monitors, electric blankets or microwaves, for safety reasons.
Kate Royston, from Transition Tavistock, says 'Local businesses and community members with the right technical knowledge are amazingly supportive of these events and contribute their time voluntarily. We're delighted to have IT repair business; Western Web Computer Services and electrical repair whizz Myles from Yeltv on board alongside a number of skilled local people, for the Tavistock REPAIR IT.
Emma Croft, Re-use Project Co-ordinator added, 'Research shows that more than 75% of the small electrical items that come into recycling centres could be back up and running if they were repaired. These events are designed to help householders waste less and enable them to save money and resources by not having to replace something broken.'
Get in touch with Emma on 07966 566435 or via emma.croft@devon.gov.uk; or Kate on 07969 569 444 to find out more.
Recycle Devon is a countywide waste communications campaign which represents a partnership of 10 authorities across Devon including Devon County Council, 8 District Authorities and Torbay Council.
Devon County Council's Re-use Project promotes re-use of durable household items – specifically clothes, electrical goods, furniture and bicycles through a programme of community and third sector engagement.
The REPAIR IT events have been funded by the Waste Electrical and Electronic Equipment (WEEE) Distributor Take Back Scheme.