Join us between 10.00am and 13.00pm on Saturday 8th April at Local Matters.for the first ever Tavistock Seed Swap!
It doesn't matter if you don't have any seeds to bring, come along, get some for free and bring them back to next year's swap!
There will be lots of growers, gardening advice & plenty of chat.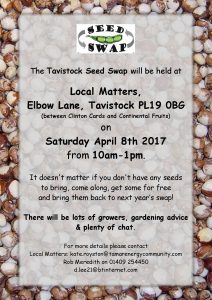 For more details please contact:
Kate Royston kate.royston@tamarenergycommunity.com
Rob Meredith 01409 254450
Diana Lee d.lee21@btinternet.com
Local Matters, Elbow Lane, Tavistock, PL19 0BG
(between Clinton Cards and Continental Fruits)